Apolo, together with the recording studio Sol de Sants and the audiovisual production company furious_, present Live Recording Studio. The new project combines different disciplines to create audiovisual content in a transversal way: video clip and live recording, streamings, and music recording and production.
Through Live Recording Studio, the venue is open to new proposals and possibilities, to be the engine for the creation of all possible synergies that may arise from the many artists, promoters, producers, and initiatives of all kinds that pass through Apolo.
The venue is undertaking this project with Sol de Sants, a Latin Grammy award-winning studio directed by Alberto Pérez, which has featured artists such as Rosalía or C. Tangana, and furious_, the production company born from The Furious Sessions made by El País.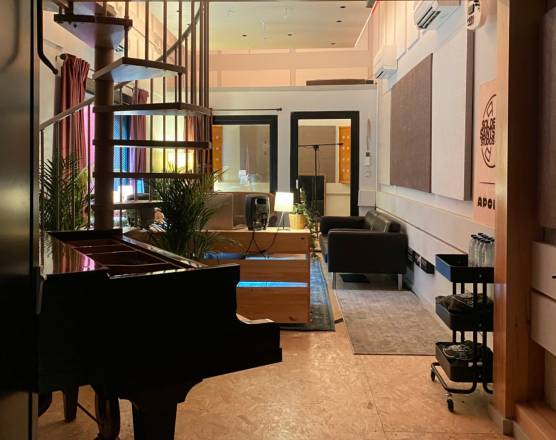 Turn any space in the venue into a radio, television or streaming set
The recording studio is a soundproofed cube located inside Apolo, which also has a large window through which natural light enters and overlooks La (3), making visible everything that happens inside. It consists of three rooms: a vision booth, a control room and a production room.
The space is connected by fiber optics to the different rooms of Apolo, allowing an infinite number of possibilities when it comes to recording or broadcasting live with the highest quality. This fact also allows the possibility of converting any space in the venue into a radio, television or streaming set.
Live Recording Studio is the perfect place for experimentation, collaboration and creation of new formats and contents that adapt to online and offline platforms. The doors are open to new ideas and projects, as well as to the combination of different disciplines and the exploration of all possibilities.
If you are an professional sector agent and would like to receive more information, please contact us at gestio@sala-apolo.com.